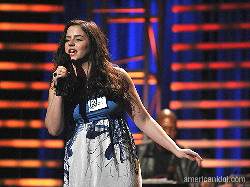 Last night was the final performances of season 8 of American Idol's Hollywood Week auditions, and while the format was confusing – we started at the end and worked backwards – there's only one thing that really matters:
Tonight, we see if Tatiana Del Toro goes home.
OK, so I don't want to totally diss the girl, but honestly. I've never seen such an emotionally self-centered basket case in my life. And the girl is constantly praying. Seriously, is that the image you really want to be portraying?
Like the other shows from Hollywood week, we didn't see some of the contestants we would have liked to see perform – Jesse Langseth? Frankie Jordan? Taylor Viafanua? – but that's OK. Assuming that some of them made it through, I think I can make some predictions about the final 36:

I think these guys will definitely be in the final 36:
Lil Rounds
Danny Gokey
Jamar Rogers
Kristen McNamara
Matt Giraud
Anoop Desai
Jasmine Murray
Alexis Grace
Michael Sarver
Mishavonna Henson
Kendall Beard
Scott MacIntyre – I would have cut him because I'm not sure his vocals are strong enough, but as we all know, Idol loves to include a good sob story. When he said he didn't see Paula give him a standing ovation (because he's blind), I think that probably secured his place in the final 36.
Joanna Pacitti – even though she forgot the words, she's had a record deal. She's going through
Casey Carlson – she forgot her words, too, but she's still good enough to go on.

Ju'Not Joyner
– he took the judges advice and came back with a much better "star" appearance.
Nathaniel Marshall
– even though his solo performance last night was marred by a stupid montage of his meltdowns, I think he's got a good voice
Even though we didn't see these contestants perform last night (or much, anyway) if they're still in the competition, I think we'll be seeing more of them:
Frankie Jordan
Anne Marie Boscovitch
Jackie Tohn
Jesse Langseth
Taylor Viafanua
Stevie Wright
Melinda Camille
Kris Allen
Ryan Johnson
Ashley Hollister
These contestants? Maybe:
Nick Mitchell/Norman Gentle (or is it Normund?)
– I think it's possible they put him through, just for kicks. Nick succumbed at the last minute and put on a very good Norman Gentle act, perching on the piano and belting out his song. But we've really yet to see if Nick Mitchell can sing. Like I said, if they axe Nick, the need to make Norman Ryan's sidekick and keep him involved in the show.
Adam Lambert
– on Day 1 in Hollywood Kara told him that he still had a musical theater air about him. So what does he pick for his solo song? Cher's "Believe." You're kidding right? He's got a great voice, but with that song he sounded like he was auditioning for a drag show.
Tatiana Del Toro
– I just can't believe that the producers have the patience to deal with her, but they might be thinking that having a contestant to hate will help draw viewers, at least until the voting starts. But if that happens, she could end up having a Sanjaya effect, where sites like "Vote for the Worst" skew the voting by encouraging people to vote for the worst so that good contestants go home while contestants who have no business being there to begin with stick around.
Tonight we'll find out who are final 36 are. Check back tomorrow to see if my predictions were close!
RELATED POSTS
Breaking American Idol News: Joanna Pacitti Ineligible; Replaced By Felicia Barton
Idol Shocker: Jamar Rogers Sent Home, Tatiana Del Toro Stays
American Idol: My Predictions For Some Of The Final 36
American Idol Season 8 Contestants With Ties to Christian Music
American Idol Contestant Kristen McNamara & L.A.U.G.H.
American Idol Contestant Ryan Johnson Performs Tonight with Christian Band Instereo
Is Jesus at American Idol's Hollywood Week?
American Idol Judge Kara DioGuardi Gives Contestant Some Solid Advice
More on American Idol contestant Danny Gokey and wife Sophia
What's up with American Idol's new judge Kara DioGuardi and why is the show milking contestants' tragedies?
More American Idol Posts
And if you want more
American Idol show recap, visit my Idol blog at NewChristianVoices.com
.
Get the Gospel Soundcheck headlines delivered daily to your email inbox. Just sign up for the RSS feed by going to the "Subscribe" box on the right hand side of this blog and entering your email address.