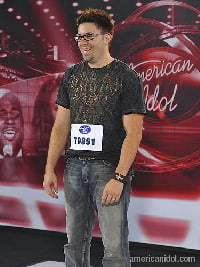 So the first two auditions from American Idol are over, and I have two questions:
1) Why is American Idol taking such advantage of the contestants' tragedies?
2) Why do we need another judge?
First, the contestants.

On Tuesday night's show, they focused repeatedly on blind pianist Scott MacIntyre. Teaser after teaser talked about his inspiring story and how we're going to be so moved as we follow him through the competition. OK, so the guy is blind, and he plays piano. Yes, he's talented, and yes, he's a great guy. But unique? Hello?? Stevie Wonder, anyone? It's a lovely, inspiring story, but if that's the best the show can hang it's hat on, we're in trouble this season.
Then last night, it was Danny Gokey (pictured), a church music teacher from Wisconsin, whose wife died just four weeks before the audition. Good grief, do they need to take advantage of the situation, running teasers of the guy crying? Sure, we want to hear his story, but there's a point where it becomes opportunistic, and then just creepy.
Interestingly enough, the guy looks like he's a Christian and says he hoped to get through so he can tell the world her story. He's a church music teacher, and after doing a little research online, it looks like he might be part of Faith Builders International in Milwaukee.

I think that because I inadvertently found his late wife Sophia's Bebo page, and then her obituary, both of which listed the ministry. It's more than a little creepy, to be honest, looking at her personal pictures, reading about her watching Taylor Hicks on American Idol, and about how her husband is her other half. When her profile asks her to list what's she afraid of, she writes, "I'm not sure what I'm really scared of…. " (You can read
more about Danny Gokey in this post about Sophia's Heart Foundation,
which he set up in honor of his wife.)
But I digress. The guy has chops (every blogger's new favorite word) and a touching story, and if my guess is right, a whole ministry ready to dial up his number on voting night. I like him a lot. As long as they stop with the saccharine-coated, tear-jerker promos.
Now for Kara DioGuardi. OK, she's talented, accomplished, and beautiful. But on this show, she's redundant. We have brains and experience from Randy and Simon, and pretty from Paula. Unless they need someone to translate for Paula on her less coherent evenings, Kara DioGuardi is just another guest judge. Pretty to look at, but without any bearing on the actual results of the competition at all. At times, it looked like Randy, Simon and Paula made up their minds and thought to ask Kara for her vote as an afterthought.
Although, when she faced off against Bikini Girl (aka Katrina Darrell), I was certain that if it came to a fistfight, Kara could take her without any trouble. And when she told one contestant he was a "ballsy dude" and told another one "You've got a really big instrument" she did offer a couple of snicker moments.
All in all, American Idol has been a bit of disappointment so far. Too many commercials and teasers that don't pay off. Too much editing and story planning, not enough Ryan Seacrest goofing with the contestants. It's all just a little predictable, and feels like the show is trying too hard to do what has always come naturally.
Then again, we've only just begun. We've got six more cities and thousands more characters to entertain us through spring.
Get the Gospel Soundcheck headlines delivered daily to your email inbox. Just sign up for the RSS feed by going to the "Subscribe" box on the right hand side of this blog and entering your email address.
RELATED POSTS
Idol Shocker: Jamar Rogers Sent Home, Tatiana Del Toro Stays
American Idol: My Predictions For Some Of The Final 36
American Idol Season 8 Contestants With Ties to Christian Music
American Idol Contestant Kristen McNamara & L.A.U.G.H.
American Idol Contestant Ryan Johnson Performs Tonight with Christian Band Instereo
Is Jesus at American Idol's Hollywood Week?
American Idol Judge Kara DioGuardi Gives Contestant Some Solid Advice
More on American Idol contestant Danny Gokey and wife Sophia
What's up with American Idol's new judge Kara DioGuardi and why is the show milking contestants' tragedies?
More American Idol Posts
And if you want more
American Idol show recap, visit my Idol blog at NewChristianVoices.com
.
Get the Gospel Soundcheck headlines delivered daily to your email inbox. Just sign up for the RSS feed by going to the "Subscribe" box on the right hand side of this blog and entering your email address.