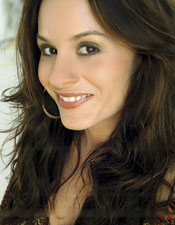 Last night's episode of "American Idol" in Jacksonville was without much excitement. (You can read my American Idol recaps at NewChristianVoices.com.)

But Kara DioGuardi did give contestant Darin Darnell some excellent advice.
Darnell was a bit weepy because his buddy got cut, and he was having trouble pulling himself together in front of the judges. Kara told him, "The music business is not for you, because it is paved with heartache." She added that if they stopped his dreams in that room, "Then we did you a solid." Amen, Kara.
Reality TV does help some artists get the exposure they need to give their career a much-need shot to the top, but what viewers don't see is the nitty gritty of the actual music business. It's not a nice, hand-holding, poor-baby-let-me-get-you-a-tissue business. It can be brutal. There is a bottom line and if you're not making it you'll be out on your kester quicker than you can say "ticket to Hollywood".
You see the successes but you never see the heartache. So kudos to Kara for giving it to him straight, and without Cowell's trademark snideness, which I love but doesn't always help the contestant. She did him a favor by telling him the truth.
RELATED POSTS
Idol Shocker: Jamar Rogers Sent Home, Tatiana Del Toro Stays
American Idol: My Predictions For Some Of The Final 36
American Idol Season 8 Contestants With Ties to Christian Music
American Idol Contestant Kristen McNamara & L.A.U.G.H.
American Idol Contestant Ryan Johnson Performs Tonight with Christian Band Instereo
Is Jesus at American Idol's Hollywood Week?
American Idol Judge Kara DioGuardi Gives Contestant Some Solid Advice
More on American Idol contestant Danny Gokey and wife Sophia
What's up with American Idol's new judge Kara DioGuardi and why is the show milking contestants' tragedies?
More American Idol Posts
And if you want more
American Idol show recap, visit my Idol blog at NewChristianVoices.com
.
Get the Gospel Soundcheck headlines delivered daily to your email inbox. Just sign up for the RSS feed by going to the "Subscribe" box on the right hand side of this blog and entering your email address.