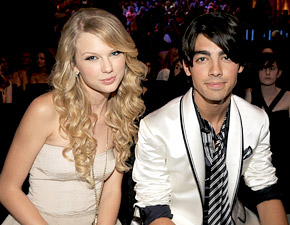 I had several people write and ask me if I'm going to cover the Joe Jonas/Taylor Swift break up, or address the post that the guys put up on their MySpace blog about it.
No, I'm not, at least in the way you wanted. I don't care if Joe Jonas is dating Camilla Belle or broke up with Taylor Swift over the phone or was accused of cheating on a girlfriend.
What I do care about is the message that this kind of gossip and innuendo sends to their young fans.

A few months ago, I shared with you some of the things that I hated about the Jonas Brothers commercial empire. Much of my concern centered around the marketing of their every move in order for the record industry to make a buck.
I was also concerned about the mixed message that their purity ring stance can give to their fans, when their relationships and dating experiences are plastered across the cover of every teen magazine – that somehow, it would send the message that it's OK to wear a purity ring and then engage in a string of casual dating relationships, even if they're not sexual.
The more popular the guys get, the more they become a target for gossip, and the more fans read into everything they do. There's nothing worse than having rumors spread about you on the internet, or having people assume the worst about your behavior.
The guys tried to set the record straight with a very open post on their MySpace blog. The post has since been taken down, but you can read the text at UsMagazine.com. I'm not sure why the blog post was taken down, but my guess would be the industry powers that be didn't want them addressing the allegations. The more they defend themselves the more people read into it, and the more gossip is spread. It's a never ending cycle.

So here's the deal with the JoBros and their dating relationships. PRAY for them, that they make godly decisions, and that they can withstand the constant barrage of media attention that is often just gossip and rumor. Understand that what you read online isn't always the truth, and know that just because you see someone's face every time you turn around, it doesn't mean you really know them. Sure, they're celebrities, but they're also actual people, with families and friends and lives off the stage. If they're in the mainstream industry to be a light for Christ, then they need your prayers and encouragment, not your speculation and gossip.
RELATED POSTS
5 things I hate about the Jonas Brothers (commercial empire)
5 things I learned from Jonas Brothers fans