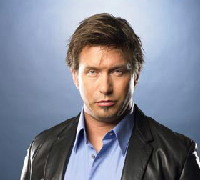 When Stephen Baldwin offers you a dare, beware.
The Christian bad boy (actor, author, speaker, skateboarder, 15-year-old in an adult body) met teen pop sensation Miley Cyrus and her mom at the 2007 White House Easter egg hunt, and offered her a dare: he'd get a tattoo of Hannah Montana's signature "HM" initials if she'd have him appear on her TV show.
Silly young girl. She agreed.

Baldwin revealed the tattoo this week when Cyrus went to see him at a book signing in Nashville.TMZ has the pics to prove it. (Can you believe I just cited gossip site TMZ as an actual source? And just another observation: that's Cyrus' new beau Justin Gaston in the background. All I've ever seen the guy in is a white-v-neck undershirt. I know he's an undewear model, but please, somebody buy the kid some real clothes.)
The big question now is: will Miley pay up? No word from Baldwin's publicist yet; they're still waiting to find out when Baldwin will make his cameo on "Hannah Montana."
You gotta love Stephen Baldwin. He's a big kid with an exuberance for everything in his life, from skating to Jesus. If you read his book, The Unusual Suspect, you know what I'm talking about. He's like the Tazmanian devil of joy. Whooosh! You stand too close and you get wrapped up in the energy. Not a bad thing.
But know this: if Stephen Baldwin offers you the dare, you can be sure he's going to follow through on his end. So you better be ready to pay up.