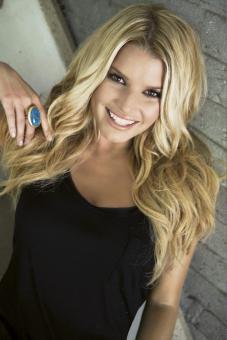 Surfing around the web today, I stumbled across an interview and story in the Press-Enterprise about Jessica Simpson. In the story, Simpson talked with reporter Vanessa Franko about how her gospel music background influenced her. "You sing from a place of prayer, a place of hope. I think that's one thing gospel music definitely instilled in me — the faith and the hope and being able to stand up on stage with courage," Simpson said.
I think it's easy to forget that Jessica Simpson started out in Christian music. Her manager dad was a pastor, and Simpson was probably a lot like many Christian teens today – church, youth group, church camp.

Her performing career started when, after doing the dance competition circuit, she auditioned for "The Mickey Mouse Club," losing out to future stars Britney Spears, Christina Aguilera, and Justin Timberlake.
She went on to get an invitation to contribute to a gospel album, and then at age 15, she scored a record deal with a fledgling label, Proclaim Records. But as is so common in the music industry, once the album was finished the label folded. She went the indie route, releasing the album with money given to her by her grandmother and then hit the Christian festival and event circuit with her dad. He spoke, she sang. They sold albums after the show.
They pitched the album to Christian record labels. She's been reported as saying that they turned her down because of her curvy figure, which would "cause guys to lust". I don't know if that's true, but remember, back in the late 90s, the industry was a lot less open to mainstream-copy cat acts. It had only been a decade since Amy Grant crossed over to mainstream, garnering a lot of negative feedback from the industry. (I'm not sure they've forgiven her yet.) Knowing how slow Christian music is to adapt to trends, it's not out of the realm of possibility that Simpson's buxom, blonde beauty was a red flag for Christian music back then.

No problem. Music legend Tommy Mottola heard her music, signed her to Columbia, and the rest is history.
I'm not a huge fan of Jessica Simpson's music, but I really do like her. She's goofy, she's got that dumb blonde thing going on, but I think she's a lot smarter than she lets on. And she's never shied away from where she got her start. A lot of mainstream artists who started out singing in church kind of forget to mention that in their bios. Not Simpson. She is who she is, and you can either take it or leave it.
Simpson is currently on tour promoting her current country album,
Do You Know
. She says about her move to country music, and to Nashville:
"Coming to Nashville and to country music was both a test and a leap of faith for me. But in this place of honesty and trust and hope, I've discovered so many things I left behind along the way. I've come back to who I was growing up. I believe if you follow your heart and be quiet, you will find the answers, you will find yourself. I found myself in this record. 'Do You Know' is a song and a metaphor for my life right now. Do you know who I really am?"
Reminds me of
Proverbs 22:6.
You can read
Jessica Simpson's bio on her website.