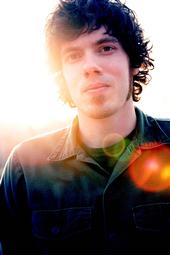 Thanks again to the lovely Google alert that led me to The Blah Blah blog's post about Christian music artist Josh Garrels.

I've never heard of him – no surprise. Like other indie acts with a blatant faith message but an unconventional delivery (see my post on
Woven Hand
) Garrels doesn't quite fit the typical Christian music mold.
Sorry,
"Becky", this one won't be a head bopper
in the mini van on the way to soccer practice, either. It's like a folk, roots, neosoul, acoustic sound.
The Blah Blah blog
has a couple of free downloads you can check out for a few more days:
Zion and Babylon
(I like this one.)
Don't Wait for Me