One of the things that I wanted to do with these guest blog posts is give you a behind-the-scenes look at your favorite Christian music artists, off stage, up close, and personal.
Today's blog post is from Bebo Norman, whose latest album, aptly titled Bebo Norman, released yesterday. It's is first album with his new label, BEC, and his first studio album in more than two years.
In his guest blog post, Bebo talks about his recent battle with anxiety. It's a topic that's dear to my heart, because for years I also have battled anxiety. While my attacks are few and far between these days, like Bebo, the struggle left me with a deeper faith.
But here, I'll let him tell you his story …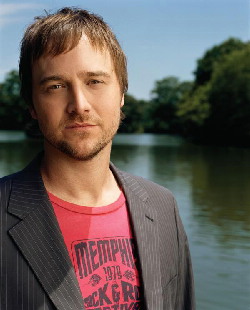 Anxious Faith
by Bebo Norman
Big news!! I've got a new record coming out! I know, I know, it's not really all that big…new records are a dime a dozen these days, as it seems we are inundated with more and more new music every day, from every angle and every corner of the globe – and so much of it so much better than my simple songs.
No, I must admit that this big news is purely selfish. Not because putting out a new record is a new experience for me – heaven knows there are days when it seems I've worn out my welcome in this world of music. No, the thing I love most about making records is that they tell a story. I have been privileged (and for the entirety of my adult life, forced) every 18 months or so to sit down, to be still, to evaluate the landscape, the strange seasons, the movement of the tides, the direction of the wind, and then to write about it. It's a beautifully cathartic thing to have now this collection of sorts, some 80 songs or so spanning seven records, that are quite literally the story of my life – at least the last 15 years of it. Nothing earth-shattering about this particular story, but it's my story nonetheless. It is sorrow and hope and mystery and magic. And the really beautiful part is that every single time I sit down to write and retrace my steps for a new record, I am reminded of one simple truth – that God is so very good.

My new record is self-titled for a reason. This most recent chapter is a bit of a new beginning for me in a lot of ways. I'm still a fairly new husband, a new father, I'm on a new record label, and in a lot of ways I really am a new man. I have silently walked the last four years or so with a building, and recently diagnosed, struggle with anxiety that has been a battle against shame and self-reliance as much as anything else.
In my particular case, it hasn't permeated most of my daily life, just specific and sometimes infrequent moments when I try to sing but cannot find the breath to do so. This thing that I have always loved so dearly and has always come so naturally became instead a battle in the trenches and seemed on the verge of being taken from me.
Anxiety is a thief that way. It robs us of our sense of things, our joy of things, our hope, and in my case our very breath. But the truth is, some things need to be taken from us…and if it takes something like anxiety to do it, then so be it. See, anxiety also robbed me of the crutches that I have depended on for so long – the crutches of self-reliance, false humility, human acceptance, and even logic. I have always prided myself on my ability to "logic" my way through difficult things. I cannot logic my way through this.
But I have taken something back, I have robbed something from anxiety. Faith. Real faith. Not some accumulation of spiritual accolades, or wisdom, or even life experience. No, faith that is simply this: a desperate clinging to Christ. Nothing more. "Let my ruins become the ground you build upon, let my ruins become the start. Let my ruins become the ground you build it on, from what's left of my broken heart." That is a line from one of the songs on this new record of mine, but more than that it is a line from this story that is my life. In one way or another, every single song on the record speaks to that theme. In every way, every season of my life is the living out of that theme.
It is very big news. Thank you Jesus that you are consistent in the middle of my inconsistency and good beyond measure.
To learn more about Bebo Norman, visit his website.
RELATED POSTS
Guest blogger Tammy Trent shares some thoughts on going from grief to joy
Guest blogger Derick Thompson talks about great sex and his band's song, "Fire"
Guest blogger Jaime Jamgochian shares some thoughts about modesty
Guest blogger Pastor Dave Weiss answers the question "What is Christian Music"