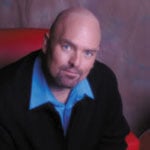 Well, here's a shocker of a story: in an interview with the gay publication Washington Blade, CCM veteran Ray Boltz has come out of the closet and admitted that he's gay. The story, published last Friday, relates Boltz's Christian music career, his struggle with gay feelings, and his eventual confession to his family in December 2004. It's actually a really well-done story and definitely worth reading. But WOW, it's a total shocker.
For more than 20 years, Boltz has been a staple of the CCM industry, earning several certified gold albums, three Dove Awards and a string of 12 No. 1 hits. He's probably best known for the songs, "Thank You," "Watch the Lamb," "The Anchor Holds" and "I Pledge Allegiance to the Lamb."
He was married for 33 years, raised four kids, and was by all accounts a typical Christian music artist.
But in 2004, he dropped a bombshell on his family when he admitted that he was gay. He'd been struggling for years with his feelings, to the point of clinical depression and thoughts of suicide. Boltz tells the Washington Blade, "I'd denied it ever since I was a kid. I became a Christian, I thought that was the way to deal with this and I prayed hard and tried for 30-some years and then at the end, I was just going, 'I'm still gay. I know I am.' And I just got to the place where I couldn't take it anymore … when I was going through all this darkness, I thought, 'Just end this.'" He and his wife divorced – and maintain a good relationship – and Boltz has the love and support of his children. He's moved to Florida to start his life over, and tells the publication that he's dating and leading a "normal gay life."
in 2007, he visited Jesus Metropolitan Community Church in Indianapolis and quietly slipped a CD and a note to the pastor. It was the first step for Boltz in going public with his news.
While Boltz isn't the first Christian artist to come out of the closet, he is the most well-known, so it will be interesting to see the reaction from the Christian community. The article does a really good job depicting the CCM mindset towards homosexuality, explaining that "it's only been those who've shown repentance for their perceived sins, who have been able to rebuild their careers." (Artists like Dennis Jernigan, for example.)
If I can be totally honest, I admit to being a bit conflicted on the gay/Christian issue.
I don't think anyone goes to hell (whether that's an eternal fire or an eternal separation from God) because they're gay. I think that's determined by our relationship with Jesus and whether or not we've accepted that gift of salvation. I have deep compassion for gays; I have close family members and dear friends who are gay, and I know that God loves them all. I don't feel it's an "us vs them" argument. But how it all fits into the Christian church? I don't have a clue. But I'm pretty sure that, good or bad, the Christian music industry doesn't have a place for artists like Boltz. There is, however, a budding gay Christian music industry, where artists like Jason & deMarco find success. (Jason Warner started in the Christian music industry, touring in the late 90s with the groups Truth and The Sound.) While Boltz tells the Washington Blade that he doesn't want to be the poster child for the Christian gay movement, there may be still an important place for him in the music industry. In fact, he recently performed at the Jesus Metropolitan Community Church in Indianapolis, and on September 21st, he'll perform at the Metropolitan Community Church of Washington, D.C. at 3:00 p.m. Both are churches with strong outreaches to the gay/lesbian/bisexual/transgender (GLBT) communities.
But does it have to be the gay Christian music industry? Can Boltz continue, if he wants, can he remain part of the CCM industry? What's your reaction to the news?
RELATED POST
NEW: Christian artist Brian Bates shares his thoughts on how to respond to Ray Boltz, Chris Aiken coming out of the closet
Ray Boltz to headline Our Family Matters gay conference in Nashville this October
Shocker! Clay Aiken comes out of the closet
Check out the Joanne Brokaw's "Christian Music Year In Review," a look back at the stories you were talking about on the Gospel Soundcheck blog.