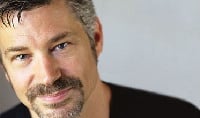 A few months ago, while doing a cover story for the Christian Voice Magazine on the Compassionart project headed by Delirious frontman Martin Smith, I had a chance to chat with worship leader Paul Baloche, who took part in the retreat in Scotland where a dozen artists gathered to write songs to benefit the needy.
The discussion this week about worship and commerce and the church reminded me that Paul had some great insight into the topic. He's perhaps one of the most humble artists I've ever talked to, and yet you sing some of his songs every week in your church.
Here are some excerpts from my interview; the words in italics and brackets are my summary of the questions I asked or clarifications of his answers (since this is just an excerpt of a very long interview). The rest are his words.

[I ask him about the role of art in the church, and why Compassionart is using art to benefit the needy.]
Art has a way of getting people's attention. [T]he world is just surrounded by music, painting – and photo and cinema and media – and it's a powerful, emotional vehicle, always has been. It just makes sense to use one of the most powerful vehicles to draw attention to some of the world's biggest needs.
[I ask him about the Compassionart songs, and how much money they could potentially generate for charity. Could it be millions?]
Millions, that would be pretty rare. Collectively, and it's not a cop out, but there's really no telling. It could be anywhere, I mean, gosh. Let's say if a million CDs were sold, typically a song would generate 6 cents, so that's 6 cents, and a million that would be $60,000, well, times 12 songs.
[I tell him that I don't think the average fan knows that a song generates only 6 cents. We laugh.]
Again, in this case, it could be a little bit higher, in this case, because there are other facets that might be giving up their portion as well. [He's talking about the fact that everyone involved in the process – from producers to agents to managers – gave up all rights to the songs; normally they would earn money from the songs as well.] All I know is that … you know, it's hard to say Joanne. It depends. It could be anywhere from a couple thousand dollars to … [He pauses] you know … there is that chance that some of these songs, if they really caught on, and somebody from the pop music world picks it up and it becomes a big number one hit …

[It would be "We Are The World" times 12? I ask.]
[He laughs] There you go! So it could be millions, anywhere in there. I'm not used to making a million dollars on my songs. It's nice to dream big, though.
[He's speaking not of his own songs but the songs Compassionart wrote and recorded to benefit charity]
I think maybe the message … wouldn't that be amazing for a song to live on, to generate royalties in some form or fashion? It's not inconceivable that in 10 years it could have generated a few million dollars or more.
[I tell him that I had recently had a discussion with a college student about the idea of writing and recording worship music for profit. Does he have any thoughts on that?]
I'd say a good portion of the songs that we sing on Sunday morning were written by people who are serving their local church. They didn't set out to make a career. I know I didn't. I moved to Texas and said, "Here am I, Lord, use me" … and just worked in missions, plugged into my local church and led worship there.
And songs just kind of rise up in the midst of worship times. We'd sing them in our church – and I know that's kind of Martin's story
[he's speaking of Delirious' Martin Smith],
you know, leading worship at a church. Some of those initial songs kind of came out or were birthed as he led in his church. I know Matt Redman, I know Chris Tomlin, all those guys were just serving in their local body, not some big fancy church. Even Darlene [Zschech], back in the day before anybody ever heard of Hillsong, believe it or not, it was a local church.
So I think it's important just for people to realize, I would say, almost 9 out of 10 cases, it began as people saying I want to serve my local church, and in the process of leading, songs would arise. They would do a local thing, companies like Integrity or Maranatha would come along and recognize [and say], "Oh wow, these are some good songs. Let's do a project with this church and let's come alongside them." That's why I remember getting my first little royalty check and it was a surprise. I felt so naïve about it, to be honest. It was like, Oh, wow, I'm serving part time at this little church and giving guitar lessons, and low on funds …and all of the sudden you get this little check and you're like wow, that's so neat. "
I think sometimes people get this out of proportion; they have this image in their minds that people are making millions and millions of dollars, and it's just funny. If they really knew. Gosh, maybe there's a very small handful.
* * * * * * * * * * * * * * * * *
To learn more about Compassionart,
visit the Compassionart website.
To learn more about Paul Baloche,
visit www.leadworship.com
RELATED POSTS
The commerce of church – where do we cross the line?
Delirious to disband
A musing, a confession, and the last word (this week) on Christian music
Chris Tomlin on being consumed rather than being a consumer