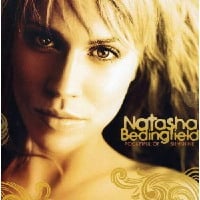 And here's another hot mainstream artist who got her start in Christian music: Natasha Bedingfield.
As a teenager, Bedingfield and her siblings, Daniel and Nikola, formed the short-lived Christian dance/electronic pop group, The DNA Algorithm, which performed at several Christian music festivals before disbanding.

During the 1990s and early 2000s, Bedingfield composed and recorded songs for the Hillsong London Church; in 2004, her recordings appeared on the church's live album Shout God's Fame and the children's album Jesus Is My Superhero by Hillsong Music Australia.
In 2006, Tony Cummings of Cross Rhythms in the UK, noted that Bedingfield, a member of the HIlsong London fellowship, had co-written songs for the Shout God's Fame album, and predicted that she was "about to be catapulted to pop stardom."
How right he was. Her recent single "Love Like This" reached #1 on the Billboard Hot Dance Club chart and her album, Pocketful of Sunshine, currently sits at #7 on the Hot 100 Album chart.
I saw her perform the song "Pocket Full of Sunshine" on the Ellen DeGeneres show and thought to myself, "Those lyrics could be slightly veiled religiously themed," not even knowing about her Christian past.
Watching the video for the song, I was struck by how benign it was – she's dressed modestly and yet very hip, no writhing around on the ground, very sunny and positive.
So far, so good!
In any event, there's another hot mainstream artist with a past in Christian music. While you won't find her Christian music past on her website, it's kind of hard to hide, considering her association with Hillsong.
To learn more about Natasha Bedingfield, visit her website.