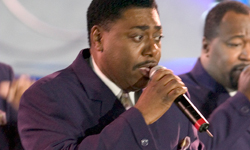 Michael Cook, member of the legendary Gospel group The Mighty Clouds of Joy, died Friday morning July 18th as a result of a massive coronary. He was 46. He is survived by his wife Valerie and three children, ages 8, 11 and 16.
The Mighty Clouds of Joy formed in 1955 in Los Angeles and still includes two of its original members, Joe Ligon and Richard Wallace. Cook has been a member of the group for more than 20 years.

The Clouds were the first Gospel group to perform on "Soul Train." They've won multiple Grammys, and opened for the likes of Marvin Gaye, Aretha Franklin, Earth, Wind & Fire, the Rolling Stones and Paul Simon, whom they backed for a month at New York's Madison Square Garden. The group was also inducted into the Gospel Hall of Fame.
Ligon says, "When Mike joined the group, he fit our vocal style like a glove. Over the years, however, he took that style to a new level. He was my vocal backbone in the group. He was a people person. He loved everyone. He will be deeply missed by all of us."
A Michael Cook Tribute will be held:
Thursday, July 24th
5:00 PM – 9:00 PM
Living Waters Worship Center
8262 Lokus Road
Odenton, MD 21113
The funeral service will be:
Friday, July 25th
9:00 AM 11:00 AM viewing, 11:00 AM – 2:00 PM service
Reid Temple AME Church
11400 Glenn Dale Boulevard
Glenn Dale, MD 20769
In lieu of flowers, donations are requested for the Michael Cook Trust Fund and can be made at any Bank of America Branch. This will go to the welfare of his children.
Cards can be sent to Valerie Cook, PO Box 273, Jessup, MD 20794.
For more informaiton, visit the Mighty Clouds of Joy website.