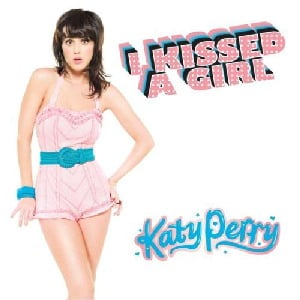 You call her Katy Perry, we call her Katy Hudson, the singer who at the tender age of 16 released her self-titled debut album in the Christian marketplace.
You got it. Katy Perry, whose single "I Kissed A Girl" is tearing up the Billboard charts, got her start in the Christian industry.
The daughter of two conservative preachers, Katy Hudson signed with Red Hill Records and in 2001 released an album filled with Christian pop/rock radio-friendly songs. She even toured with Phil Joel.
Red Hill Records folded. Somewhere along the way changed her name to Katy Perry, whether to avoid confusion with actress Kate Hudson or to shed her Christian association, I don't know, but in 2004 she went on to become an in-house vocalist for the production team, The Matrix, whose credits include Avril Lavigne and Britney Spears.
A series of typical industry ups and downs eventually led her to sign with Capital Records in 2007, and she was on her way. Last year she released the single "Ur So Gay," which garnered her attention, but it's the recent "I Kissed A Girl" that's got her at the top of the Billboard charts. Her album, One Of The Boys, released last week.
This is definitely not a Christian album, although they lyrics to the song, "Lost," allude to a spiritual searching:

"Have you ever been so lost
Known the way and still so lost …
My mother says I should come back home but
Can't find the way cause the way is gone
So if I pray am I just sending words into outer space"
So where did Katy Hudson/Perry switch paths?


Looking back, her 2001 debut wasn't a "Jesus is my boyfriend" album; the lyrics were genuine and the album was a legitimate Christian release. By all accounts, Hudson had a promising career as a Christian artist. But was she a legitimate Christian artist? In 2004, at the age of 19, she told Blender Magazine that during her adolescence, she wasn't "your typical Christian. I've done a lot of bad things. Use your imagination."
It's a curious thing, that a girl who was obviously engaging in rebellious behavior got a Christian record deal in the first place. Either she's a great actress or a lot of people in the industry looked the other way.
Should we have expected more from Katy Hudson, just because her parents were preachers and she grew up in the church? And should we even be using teens as spiritual role models – and let's face it, Christian artists are Christian role models – when often they really haven't yet begun to understand their own faith?
Probably not. There's a reason that a lot of Christian teens get to college and rebel. They need to find out on their own what their faith means and how Jesus is real in their lives. Sometimes they stay on the Christian path and end up with a stronger faith, but sometimes they step away and never look back, sometimes because they never really believed to begin with.
Only Katy Perry knows which of those is true for her.
In any event, it's clear that this isn't a crossover thing. Katy Perry long ago shed her association with the Christian industry, and while that's been good for her career it's not so good for her spiritual condition. The one thing I hope is that if she ever wants to find her way back to the faith of her youth, the Christian community can welcome her back with open arms.
We've all been lost and found, and let's not ever forget that.

(PS I need to give a big thank you to Dave Weiss at Running A.M.O.K. ministries, who alerted me to this story. I would never have made the connection!)

RELATED POST

**** NEW: 1/26/09: Katy Perry: Clearing The Air On Her Faith, Her Parents And The Celibacy Vow ****

Katy Perry's parents sound off about about their daughter's I Kissed A Girl
Head on over to join the discussion on the "What Is Christian Music, Anyway?" post

Get the Gospel Soundcheck headlines delivered daily to your email inbox. Just sign up for the RSS feed by going to the "Subscribe" box on the right hand side of this blog and entering your email address.