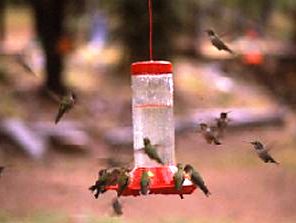 When the retired couple saw no reason to evacuate their rural Texas home — despite raging wildfires all around them — they looked out the window and were astonished. Their farm had become an oasis for refugee hummingbirds.
First dozens, then hundreds swarmed hungrily around Don and Pat Coker's sugar-water hummingbird feeder.
The frenetic little birds took turns, says Pat. "It was like they were eating in shifts."
So, while everybody else was battling grassfires raging in Bastrop County, Texas, Don and Pat rolled up their sleeves and saved the tiny emerald hummers. It meant investing in extra feeders, sugar and distilled water .
Don says it gave him and Pat a memory that will last a lifetime.