PLEASE hit the "Like" button above to share the Good News and add http://blog.beliefnet.com/goodnews to your favorites. New stories every day!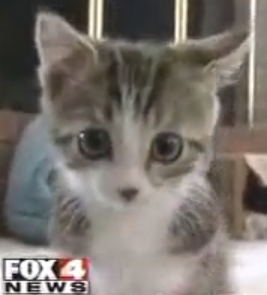 Everything in the media emphasizes the strive for perfection. Do you have the perfect car? The perfect husband? The perfect body? Gracie the kitten, short for her full name "Amazing Grace," is anything but perfect in the eyes of the world. She was born without front legs. But in her own mind, she IS perfect. She lives a perfect life and enjoys a perfect love with her owner. She's learned to stand like a kangaroo and hop like a bunny, her perfect way to get around. The lesson from Gracie is that it's up to us to define perfection. What a great lesson from a sweet little animal.
Love pets? Check out these related Beliefnet features:
Woman beats IRS, animal caretakers REJOICE!
Dog makes it back home on two broken legs after tornado carries him miles away!

Inspirational Quotes About Dogs
Quiz: The Spirituality of Dogs