PLEASE hit the "Like" button above to share the Good News and add http://blog.beliefnet.com/goodnews to your favorites. New stories every day!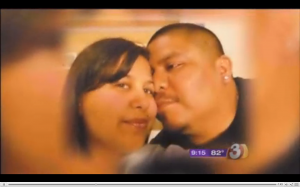 There is no more joyous occasion for a young couple than to find out they are pregnant but for Nicolette Soto, the joy only lasted 18 weeks. That's when doctors informed her that she had an ectopic pregnancy, a highly dangerous condition where the baby is growing in the fallopian tube. The doctors recommended that she terminate the pregnancy for her own safety as the baby had almost no chance of survival since it was not getting nutrients and her own life was at risk as well. Nicolette refused. According to the baby's father, she had an unwavering belief that the baby would be fine. Doctors had to closely monitor her pregnancy as both lives hung in the balance.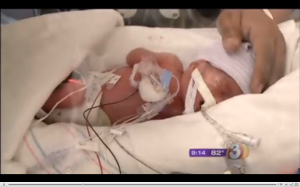 The baby must be delivered by Cesarean. If it was too early, the baby could not live but if they waited too long, they risked a rupture that would likely take the lives of both mother and baby. This past Monday, at 32 weeks pregnant, the miracle happened. Nicolette and father Victor became the proud parents of little 2lb 14oz Azelan. Although small, the baby is perfectly healthy and mom is just fine as well. Sometimes even the worst news can turn into a miracle.
Looking for more miracles? Check these out!
Beliefnet's Top 10 Sports Miracles
Watch the amazing story on video