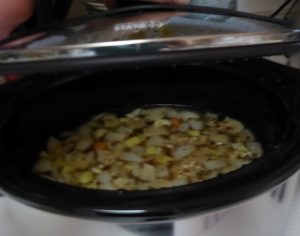 What did I do on Election Day, besides vote? I did something that brings me a sense of accomplishment and offers benefits for days to come. I made chicken soup! This simple food is traditionally associated with warmth, calm, and healing, and I thought Election Day provided the perfect opportunity to serve up some comfort!
I set the soup up in my slow cooker and soon the delicious aroma wafted throughout my home. I was very calm as I prepared to brave the lines at the polling place (nearly an hour wait!). When I arrived back home, the scent of soup cheered me. And when I allowed myself a taste test, I knew good things were to come.
The effect of chicken soup reminds us that it's a good idea to do calming, healing things when the world around us seems very roiled. The recipe was a combination of ideas gleaned from a few cookbooks and a good helping of my own additions. A little of this, a little of that and the result was delightful.
If you still feel stress from the political season that's passed, or if you feel like you need a deep breath before the hectic holidays, don't feel guilty. Feel blessed that there are things like soft sofas, and beautiful fall days to enjoy! There is the fellowship of good friends. There is a wonderful season of light to come, and there is always a warm bowl of good, homemade chicken soup to enjoy!
We never know when something will happen that causes stress. But if we're prepared – with strong faith, a willingness to relax, and a bit of chicken soup – we'll get through resiliently! I'm going to stow away individual portions of soup in my freezer. If you want my recipe, just ask!
Peace to all,