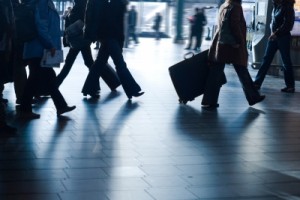 If you have a chronic illness and you will be traveling at the holidays, you might want to reflect on the theme for this year before you go: Mercy.
We are nearing the end of what Pope Francis declared the Jubilee Year of Mercy. You might have participated in activities related to practicing works of mercy, either with and for yourself or others. Now comes one of the most difficult arenas for finding and bringing mercy: The road.
Whether you will be driving, flying, or taking the train or bus to your destination, the journey will undoubtedly have some difficulty. Time will wear thin. Pain might flare. Traveling companions might develop short tempers. Utter strangers might erupt with anger. Someone, somewhere might very well irritate you to the point of snapping back, and all thought of mercy will evaporate like the trail from the engine of a jet.
There are a few ways to preserve mercy on the road:
Allow ample time to get from point A to point B. Rushing around in a perpetual state of frenzy is a sure way to allow temper to flare and mercy to vanish.
Keep mercy in mind. Consciously ask, "What act of mercy can I do right here, right now?" Then do it. Or, be mindfully grateful for the little things that others mercifully do. Then express the gratitude
Be organized. Travel is best when it is very well-organized. Boarding passes, maps, fully-charged phones – these are some of the things to gather in advance and place where you can readily grab them, if and when you need them.

Pray. Constantly. Prayer is our connection with God. If we are praying, we are less likely to deviate from His goodness and forget His mercy.
Ask for accommodation. Use that word, "accommodation," when you need assistance from railway, bus, or airport personnel. Know what you need so you can ask for it and obtain it.
Observe the world. See all that God has made that is good. Appreciate that you are traveling in this wonderful world that God has made. Many people do not have this privilege, but you do. Even with your illness, God is looking upon you mercifully. Remain open to His love as you accept His wonderful gift.
Bon voyage!
Peace,
Maureen