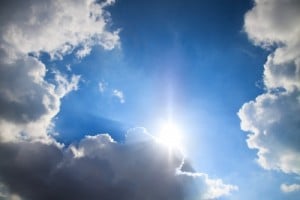 My heart goes out to all who had to weather (no pun intended) Hurricane Matthew. From Haiti to Cuba to the U.S. East Coast, it was terrifying to watch the monster storm move and it must have been even more terrifying to live through it, even if you had to evacuate.
How well I know, though, that the challenges are not over for many people. In the aftermath, clean up, assessment and rebuilding will take months. The emotional recovery will take even longer, especially as many deal with losses of homes, communities, and loved ones.
I've lived through many natural disasters, even a hurricane. So, I understand this period "after," when there is much to be done but still an inner sense of time standing still sorrow, shock, and grief. What has helped me most is, first, knowing and saying that there is only so much that can be taken care of in one day, one month, one year. In my book, Don't Panic!: How to Keep Going When the Going Gets Tough, I offer St. Francis' words as a construct for preparing for a crisis and handling the aftermath: "Start by doing the necessary, then the possible, and soon, you are doing the impossible." One step, one thing at a time.
Perhaps "the necessary" right now is to take care of yourself and your family. Reinforce the feeling of safety. Consult with medical professionals. Shore up love, support, and compassion. Then, perhaps the "possible" is looking at any damage (internal or external) and see what is possible to salvage, bandage, build back.
The "impossible" is often driven by hindsight. From afar, many crisis seem so terrible that we think we could never live through them. Yet, as you are on the ground now, in the aftermath of the storm, you have lived through it. You have done what you thought was impossible, thanks be to God! And He is still holding you as you move through these next days.
There is some relief in acknowledging that you are doing "the impossible." There is some surge of energy. And there is hope, too.
After Hurricane Matthew, there is life. Love. And no matter what the damage, there is healing through the compassion of good people and the love of Our Lord.
I'm with you in prayer and thought in this "after." May it be the beginning of bright days ahead!
Peace,
Maureen