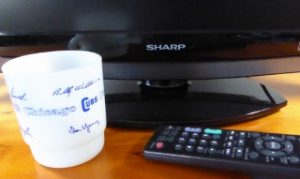 I have lived with multiple, serious chronic illnesses for many years. I am also a life-long Chicago Cubs fan. The two don't necessarily have much to do with each other, however this week and, I hope, the following couple of weeks, will bring these two "states of life" together in a way that most chronic-illness-suffering-Cubs-fans have never experienced – but oh, yes, have dreamed of.
This year might be the year.
Life with a chronic health condition can be (the good Lord willing) long, blessed, but fraught with challenges. So, too, is the life of a Chicago Cubs fan. When you have a chronic illness, you look forward to those days or periods when symptoms are moderate and life can be "relatively" normal. As a Cubs fan, you have lived year after year watching other teams make the cut, move into Post-season and ease into the World Series. They make it look so easy! And you think, "Eventually…someday…"
With chronic illness as with the Cubs, you never lose hope, of course. But hope can wear thin, even fray from the emotional and physical ups and downs. Those life-altering symptoms? Those "almost" seasons? They can bring exhaustion, frustration, disappointment, and heaps of stress. If you're reading this, you know. Yes, you know.
So, this year, which might be the year, as we move into another phase of Post-Season play, I am paying special attention to my life with chronic illness and the Cubs' progress. I understand that even good stress can put strain on our physical conditions, so I'm going to do what I can to alleviate it. Get more and good sleep and quiet. Stretch. Pray. Keep up with my doctor-prescribed exercise.
In addition, in the midst of the action, I will try not to raise my voice (much) when the Cubs score runs. I will try not to pull a muscle or knock over anything when they win a game. I will try not to reach for snacks that hearken back to my childhood times at Wrigley…much (!). I will not verbalize my memories of watching Leo "the Lip" Durocher, er, "relate" to any of the umpires on the field (or off). And I will do my best to take a deep breath before every crucial at-bat or pitch so as to keep calm and relaxed…as much as possible.
The picture above shows a coffee mug that I've held onto for many, many years. It's from the 1969 Cubs, another amazing team. Good memories. Not "The" Season…but still not shabby. It makes a fine vessel for water that I use to down my daily meds. That "spoonful of sugar" baseball-style…
So, as the next days unfold, my fellow chronic-illness-suffering-Cubs-fans, take good care. Be well. And remember, there's always hope!
Go Cubs!