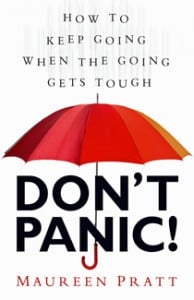 Joy of joys – just in time for Holy Week, Easter and Spring – my new book has arrived!
Don't Panic!: How to Keep Going When the Going Gets Tough is perfect for anyone who is living through a crisis or who is finding that life in these troubling times brings on anxiety and fear. In the book, I offer practical ways to de-stress and strengthen internal resolve, spirit, and faith. These tips come from a variety of intriguing sources, including modern medical science and real-life examples from people like you and me who have faced horrifying, life-shattering events and come through wiser, stronger, and more positive and rooted in hope.
I also talk about how to take crises and make them manageable, and how to find glimmers of light in the harshest darkenss. Prayer figures in mightily when it comes to handling stress and fear, and I offer novel ways to deepen our prayer lives before and after a crisis so that during one, we have a profound well of support to call upon. Faith is vital, too, and there are personal sections in the book called "Faith in Focus" that encourage the reader to look inward with a caring lens to see the immense resources each of us possesses but, often, we don't consciously realize we have.
My fervent hope is that this book will help readers know that we don't face crises alone. We are more resilient than we give ourselves credit for being. There are ways to build greater courage and strength.
And there is every reason to believe we need not panic!
Don't Panic!: How to Keep Going When the Going Gets Tough is available wherever books are sold (if you don't see if on the shelves of your local bookstore, ask the store manager to order it for you)!
Peace,
Maureen