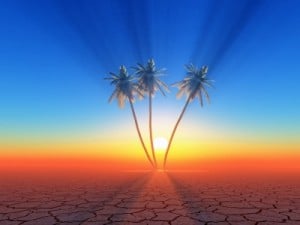 One of the most difficult things about living with chronic pain can be finding relief. Oh, yes, we work with our doctors, physical therapists, and other medical professionals to do this. But in the day-to-day, when that sharp jab makes us gasp, or the twinges take on seeming lives of their own, we can feel quite helpless, drained.
In such moments, I like to take advantage of the oasis within – the cool, calm, lushly forested place where my heartbeat takes on the rhythm of nature, unhurried but thriving. It takes conscious effort to get to this wonderful place of relaxation; envisioning the forest helps, as does making use of technology to evoke birdsong, a babbling creek, or wind whispering through treetops. But it is possible to use these tools, or just our own power of concentration, to look beyond the discomfort we endure and through to somewhere that we can truly call a God-given oasis.
The Lord will give us all we need, including a special place within to seek comfort and find renewed energy and strength. We have only to make the effort to go there to benefit from this, as with all, blessings.
Peace,
Maureen