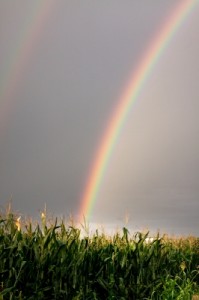 Have you ever prayed beneath the bright blue sky of God's creation? Or knelt on soft grass and given thanks to its Creator?
We might pray for rain, or for warm days to come after a hard winter. But besides praying for weather and other things of the earth, one of the best ways to get close to God in prayer is to take our supplication outdoors. There, it's easy to imagine God's hand in the wind, or see His handiwork in the clouds. New growth on winter-worn branches reminds us of God' eternal love, and that once-dormant bush springing to life (a pun in the best sense of the word "Spring!") is testament to the promise of the rainbow fulfilled. God's earth will be with us forever – and for this He is forever worthy of praise and prayer!
Try a fair weather prayer this week. Or, if it's raining, settle in by a window and look out at the natural spring of rejuvenation coming from the heavens. Lift up your prayers then, too. For it is all good!
Blessings,
Maureen