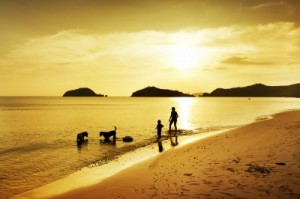 August 26 has been named "National Dog Day," and it's a fine time to remember all the wonderful ways our furry friends enhance our lives, whether we have chronic pain and illness or not.
I've known some remarkable dogs. There was Kolya, a Great Pyranees that served people at UCLA Medical Center by visiting the sick, young and old. One day, I did rounds with Kolya and was amazed when the small-pony-sized canine gently stepped up and onto more than one patient's hospital bed, stretched out, and relaxed, bringing a palpable sense of calm to the patients and a smile to all who watched.
There was the Scottish terrier that was our family pet for many years, feisty and stubborn, but fiercely loyal.
There was the "hearing helping" dog at the pharmacy I used to go to, a companion to another customer who was audibly challenged and who relied on the little dog with the big ears to alert her when important noises sounded.
The seeing eye dog, a German shepherd, that I saw recently that prevented its companion from stepping onto a busy street was more than remarkable, he/she was a true hero.
And the many household dogs that are constant reminders of the importance of the simple life, a life of play and napping and humor and care. These dogs, too, deserve a kind word and a nod.
I hope that you have a fine National Dog Day, and that you take a bit of time to give a pat or a scritch or, perhaps, a treat, to your favorite pooch. Or, perhaps, if you've been thinking about it, but have hesitated, perhaps you might adopt a dog today. Many are waiting for good homes!
Blessings for the day,
Maureen