http://www.youtube.com/watch?v=Equ0RIiulOA
There is a gospel song that resonates through my spirit on Good Friday. Simply named, "Calvary," (I've linked one version of it that I found on YouTube, sung by Jami Jackson at the First Presbyterian Church of Brooklyn) a traditional, African-American spiritual, is a very slow, almost plodding, and sorrow-filled testimony to how painful and long Our Lord's walk to Calvary really was. The lyrics are very plain, but powerful:
Calvary. Calvary. Calvary. Calvary. Calvary. Calvary. Surely He died on Calvary.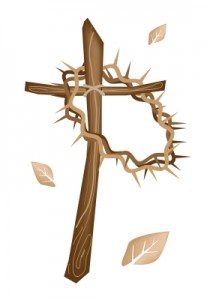 As the song moves through its four verses, it never speeds up. I find myself wishing it would, wishing it would accelerate because it is so difficult to be held bad, to be made to remember over and over the labor and suffering of Jesus as he walked, step by agonizing step, to His death. It is exactly this, however, that I think is the most powerful lesson of this song:
We who live with pain often feel our minds wanting to "speed things up," to find relief from our suffering, to stop the pain, to get to the day when there will be more effective treatments and easier days ahead. But, we live with chronic, ongoing pain that is that tempo of "Calvary." Slow. Deliberate. Stark. Unrelenting. And yet, we also have a ray of light that outshines this darkness: We have Jesus, and we walk with Him as He walks with us!
This Good Friday, I will again be singing "Calvary." And, as the idea of a faster song comes into my head, I'll understand better – the longest walk, through this life, is a blessed one because Jesus walked it, too. And He is with us forever.
Blessings for the day,
Maureen