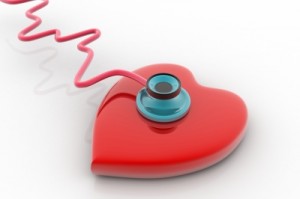 I was diagnosed with cardio-vascular problems in my 30s. A friend of mine had her first heart attack in her 50s. Another person I know had one in his 40s. Truly, heart disease is not something only "old" people get. Even children are developing problems that can lead to serious heart health issues due to obesity and lack of exercise.
When we say we need to take care of heart heatlh, we're really saying that to ourselves.
I was very surprised when I found out that I had heart disease. I wasn't obese. I exercised. I ate a good diet. I did not smoke. But, other factors can come into play, no matter someone's age. Lupus, it turns out, greatly raises a patient's risk for several kinds of heart/vascular conditions. This wasn't completely known when I was diagnosed with lupus, but now, it is better understood. And because of that, I am able to take steps to try to give my heart as much of a chance as possible.
Other health conditions can raise heart disease risk, too, as can habits such as smoking and eating unhealthfully. These don't necessarily only affect older people, and also don't necessarily bring about sudden cardiac symptoms (high blood pressure, for example, can be 'silent,' but still present and dangerous).
Whether young or old, a regular check-up with some focus on heart health is a great step to take to find out where your particular cardiac situation is. And, especially during this month of Heart Health Awareness and Education, finding out as much as you can about heart disease prevention can help you strengthen good habits and perhaps change others.
Even if we are young (relatively speaking), the steps we take to care for our hearts are worthwhile. Because heart health isn't just about someone else. It's about you and me – now and into those "golden years!"
Blessings for the day,
Maureen