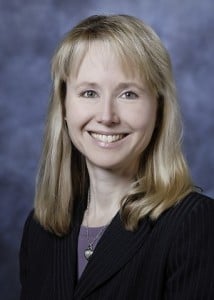 How can you communicate with someone whose mind and personality have changed so much that you do not recognize them any longer?
How do you find the words? Or, are words necessary?
Pamela Lazor is a Chaplain at Cedars-Sinai Medical Center in Los Angeles, California. An ordained Presbyterian minister, she is skilled in pastoral care for patients who are treated at the hospital, and she also serves caregivers and trains new chaplains. But beyond her credentials and training, Pam's personal experience has given her a particular skill: understanding how difficult it can be to communicate with someone with dementia – and yet how important it is to be present and try.
"The first exposure I had to dementia was my grandmother, whom I was very close to," Pam told me during a conversation I had with her at Cedars-Sinai. "At that point, they just called it 'dementia.' I'm originally from South Africa, and I wasn't in daily contact with her. But the last time I really saw her, I spent a few days with her."
"On the one hand," Pam explains, "the visit was gruelling. She kept asking the same question over and over again. But, then, she spoke of things I'd never heard before, stories of her childhood that I'd never known. It was a part of her I'd never met before. I feel like I have this piece of her that nobody else knew. It opened a different door."
"There's a saying, 'If you've seen one case of Alzheimer's disease, you've seen one case of Alzheimer's disease,'" says Pam. "Each family experience of it is so different. But having experienced it with my grandmother, I understand some of the heartache.She was such a strongwilled woman, and she couldn't be that anymore. I felt like I had lost her before I had really lost her."
Communicating with someone with Alzheimer's can also be a challenge when they are newly diagnosed. On the one hand, they may still have some cognitive function, still a part of who they have been, but on the other hand, the disease process is taking away memories and other abilities.
Sometimes, loved ones of those newly diagnosed might be hesitant to speak openly about the disease and how it is affecting him or her. Or, they might think that the diagnosis means that, suddenly, the person with Alzheimer's is incapable of thinking at all for him- or herself. But, in the early stages of the disease, it can be possible for someone with Alzheimer's to be able to take part in decisions such as legal issues, care concerns, and other important aspects of the disease course.
"I think of one person, a very intelligent woman," says Pam. "Just listening helped. It was important to provide enough space for her to talk about what she was really afraid of. Being able to slowly feel not alone in our fears helps us look at some solutions, what can make us feel more safe and secure."
When words fail, when it becomes agonizingly difficult to reach a loved one with Alzheimer's disease, music can be powerful.
Spritually, Pam says, "One of the things I've found helpful is how much they can remember from hymns when they cannot remember anything else. I used to work in a geriatric psych unit. Sometimes, patients who had stopped speaking would sing, or at least move to music. Some would start staring at me, as if a light went on. There was some connection there. With family members, when it is so hard to communicate, think of what used to be your parent's favorite hymns or songs."
Although Alzheimer's disease takes away the person they used to be, Pam gently reminds us that God's love never leaves them – or us.
"Does God know who they are? If they're not really here anymore, does God remember?" Pam says. "Yes. God never forgets who we are, even if we forget who we are. Can we trust our loved one's soul to God. Yes. No matter where we go, we can never be separated from God's love."
Comfort, to be sure, and profound peace, especially when words are not enough.
Blessings for the day,
Maureen