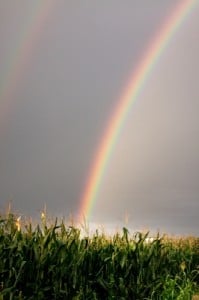 God's promise of unending love for us is so magnificently evident in the play of colors and graceful arc of the weather phenomenon that never ceases to make me pause, smile, and feel comforted.
But, as those living in the aftermath of any storm or natural disaster will agree, the hours and sometimes days after can be anything but good. Whether it's digging out from under piles of fresh snow, slogging through flooded streets or basements, or picking up the pieces after a major earthquake, we certainly have work to do – hard work – when the proverbial storm passes.
And, yet, we still have the rainbow.
God's wisdom is unparalleled! He knows that we rejoice in the rainbow and all it means to the relationship between Him and us. And so He gives us this sign even as we live through more difficult days putting our lives back together. Imagine how Noah and his family must have been carried along by the comfort of the rainbow even as they had to unload the ark, rebuild their homes, and reestablish their lives after the flood! The energy that sight must have given them, and the security of knowing God's promise. Yes, there might be difficult times ahead. But never again the destruction that those on the ark had witnessed.
The rainbow accompanies me all along my walk with illness in much the same way as it graces the sky after a storm. The "storm" of a flare can be grindingly painful, and its end not easily defined. But, when I look to the rainbow and think of God's promise, I am reminded that the emotional and spiritual strength that that beautiful sign connotes can infuse me with all the energy I need to persevere.
Whether you have weathered a natural storm or a personal crisis, I pray that the rainbow will grace your life, too. As we journey on, this rememberance of God's love has a way of lifting our eyes and spirits.
A rainbow always rises!
Blessings for the day,
Maureen