So you thought the Democratic National Convention was Christian, with its kickoff interfaith gathering, its caucuses for people of faith, and its closing benediction by an evangelical church megachurch pastor, was drenched in faith?
You ain't seen nothing yet.
God-o-Meter tuned into the Republican National Convention tonight for a random hour–on C-SPAN, where the absence of talking heads permits one to actually watch the convention in real time–and found a big ol' slice of evangelical America. It was more or less a Sunday service.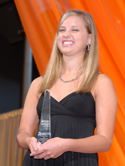 It started around 8PM Eastern, with a speech by Ashley Gunn, a young woman from Brandon, Mississippi whose church mission work to Africa inspired her to found an organization called Students Aiding Indigent Families (SAIF). Her message: the church, not the government, is the primary vehicle for helping people.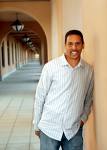 After Ashley, San Diego-based
evangelist Miles McPherson
took the stage to lead well-received speech/prayer. His message: Go with God/WWJD.

Next up was Michelle Bachmann, the Republican Minnesota Congresswoman who made waves for
visiting a megachurch while campaigning in 2006
and announcing that "God called me to run for the United States Congress" while calling herself a "fool for Christ." Her message: same as Ashley Gunn's.

Then the musical entertainment arrived:
Christian Singer Rachel Lampa
, who sang a couple devotional numbers. Her message: follow Jesus.
Then the service ended, and the night proceeded. Like God-o-Meter said, just a random hour.
The Democratic National Convention may have gone to extraordinary lengths to showcase its new faith-friendly ways last week. And John McCain has often seemed tone-deaf on matters religious. But make no mistake: evangelical Christians are still a huge and growing force in the GOP. The Republican Party might not be issuing press release after press release about it, as are the Democrats, but just turn to C-Span and see for yourself.

8