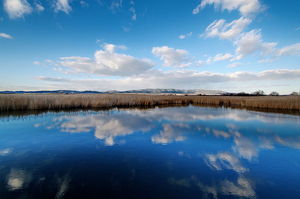 Today is testing day for me–an annual CT scan to make sure I remain cancer-free. Gah.
This means I started the day feeling like a bereft five-year-old when I couldn't find Sharky, the stuffed animal who comforts me around these times (sharks are kind of my cancer spirit guides); he must have swum off to a deep sea of my closet. It means details will escape me like scattered ants today. It means I will receive love from many directions. It means nail-nibbling and deep breathing and sitting on the floor of the bathroom and crying a little. It means feling grateful for the cascades of love in my life. It means having compassion for others going through a day pretending to be normal even though they feel all wonky inside.
So what's a gal to do? Well, I just came across this lovely Mary Oliver line that gives me my task for the day: "What can we do but keep on breathing in and out, modest and willing, and in our places?"
I also just received my daily Breathe Text. Today it says: "Let's BREATHE together." Wanna? Three deep breaths, if you would.
Sniiiiiiiiiiifffff. Ahhhhhhhhhhhhhhhhhhhhh.
Sniiiiiiiiiiifffff. Ahhhhhhhhhhhhhhhhhhhhh.
Sniiiiiiiiiiifffff. Ahhhhhhhhhhhhhhhhhhhhh.
Thank you. May your heart, my heart, the hearts of all beings fill with cooling, calming, soothing breath today. Amen.
Related Features
10 Ways to Prepare for Scary Medical Tests
[Image via: http://commons.wikimedia.org/wiki/File:Azules_de_Las_Tablas.jpg]
Like what you see? Click here to subscribe and get Fresh Living in your in-box every day.