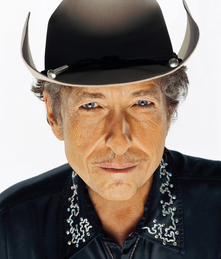 Today, Robert Zimmerman turns 69 years old. (You know Robert Zimmerman is folk legend Bob Dylan's real name, right? Ok, good.)
Anyway, today is Bob Dylan's birthday, and a good time to reflect on a man who could be called "folk legend," "strange genius," "religious chameleon," "voice of a generation," and "heart-breaker" with equal justification for each epithet.
One only has to take a stroll through some of Dylan's quotes to get a sense of the mysterious power that this man has held steadily from 1969 to age 69. Here are some to pique your imagination, as Dylan always does:
Bob Dylan Quotes: Happy Birthday, Man!
"A hero is someone who understands the responsibility
that comes with his freedom."
"A man is a success if he gets up in the morning and
gets to bed at night, and in between he does what he wants to do."
"A poem is a naked person… Some people say that I am
a poet."
"Being noticed can be a burden. Jesus got himself
crucified because he got himself noticed. So I disappear a lot."
"Chaos is a friend of mine."
"He not busy being born is busy dying."
"I've forgotten more than you'll ever know."
"No one is free, even the birds are chained to the sky."
And then, of course, there are the songs. My favorites are "Boots of Spanish Leather," "The Lonesome Death of Hattie Carroll," and "Don't Think Twice, It's Alright." Yours are….?
(image via: http://tonemarrowreviews.wordpress.com/)
Like what you see? Click here to subscribe
and get Fresh Living in your in-box every day.