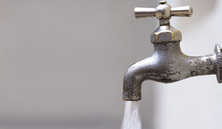 The past few days have been exciting around here–I live in one of the 30 communities in and around Boston that were under a "boil water order" since a water main break late last week forced the city to divert water to an untreated reservoir.
This morning, after only 4 days, the water main was declared fixed, tests from every affected community came back clean, and the boil order was lifted. We are so lucky–even luckier when you put our "crisis" next to the flooding in Nashville and the Gulf coast oil spill. Of the three major news items having to do with water this week, the Boston water crisis, I can say with gratitude for myself and concern for others, pales.
So as I write this, I'm listening to the soothing sounds of running water–the next step for homeowners is to conduct what they're calling "The Big Flush," letting hot water flow from each faucet for 15-20 minutes to ensure that the pipes are cleared of the undrinkable water. Cold water taps need only run for one minute.
Which has me thinking about waste. The waste of plastic from all the bottles of water we bought because even our double-filtered refrigerator line was not suitable for drinking (or even brushing teeth!). The waste of paper plates we bought because the dishwasher was off-limits (at least the ones we bought are made from recycled material and are in turn compost-able). The waste of sanitary wipes I bought because, even though they said it was ok, I was too skeeved out to shower. The waste of the water that's in minute 8 of its flow down my bathroom drain as I type.
Let me be clear–except to the extent that I wish the water main break had been caught, prevented, or otherwise avoided, I do not begrudge any of the precautions the state urged us to take. I believe that safety is paramount, and in a way it was a useful exercise to contemplate how fragile our water supply is–and what our preparedness plan is in a water emergency. The problem was fixed fast, and the public health communication system seems to have worked.
But it is worth noting, though, that for those of us who are eco-conscious, unaccustomed to casually consuming things like paper plates and plastic cups and forks when there are perfectly good, washable plates, cups, and forks in the cupboard, an episode like this is particularly difficult. Because even though we will follow directions and take whatever steps are necessary to protect ourselves, we can't help but look around at the bigger picture of water and humanity's attempt to control it and think that in this case, even in the most abstract sense, the solution was in fact part of the problem.
(image via: http://www.chronicle.pitt.edu)
Like what you see? Click here to subscribe and get Fresh Living in your in-box every day.