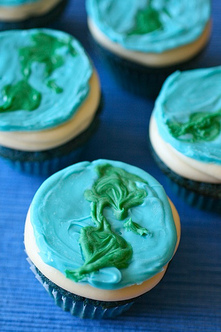 How gorgeous are these? And on Earth Day, what could be more appropriately delicious than sinking into a soft, sweet taste of heaven like these Earth Day cupcakes?
I found them over at the lovely food blog Annie's Eats (tagline: Making your day taste better!). On her site, she explains how she made the blue cupcakes (which she terms "blue velvet cake") and the lovely earth-y swirl on the toppers.
She also has a fun giveaway going, where you can win some super-cute reusable shopping bags by sharing a story of an eco-friendly change you've made in your life.
Click here to visit Annie and enter the contest!
And happy, yummy Earth Day, everyone!
Like what you see? Click here to subscribe and get Fresh Living in your in-box every day.