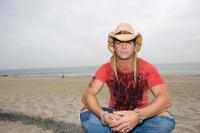 The '80s rock star Bret Michaels (frontman of the hair metal group "Poison") has had major media exposure these past few years. Some of it is not very "Fresh Living-y," like his VH1 show "Rock of Love with Bret Michaels," but some of his public persona–as an advocate for the Type 1 diabetes he's lived with since age 6–is admirable.
He's been in the news this past week because he suffered a massive brain hemorrhage last Friday. Today, news reports say, he has suffered a minor setback that has left him with seizures but still expected to make a full recovery.
All of this brings up a perennial question we've posed on Fresh Living – how do you react to celebrity health news? Does a report like this give you pause in your busy day? Inspire you to utter a quick prayer for healing? Hum a few bars of "Every Rose Has Its Thorn?" Please share your thoughts.
(image via: http://forecast.diabetes.org/)
Like what you see? Click here to subscribe
and get Fresh Living in your in-box every day.