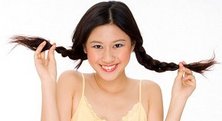 I love yoga, but for a long time, my hair got in the way of cultivating a full practice. For serious!
Left loose, my mid-shoulder-length hair (longer until about 6 months ago) would flop into my eyes, and a ponytail led to neck crinkles and headaches when we lay on our backs. Not such a restful savasana when you're thinking "owwww" instead of "ommmm."
Months ago, I made a change. Pigtails. Not wild Pippi Longstocking-style piggies, sticking out and childlike, but simple, grown-up pigs, cinched at the chin line and blissfully out of my way whether I'm bending, leaning, or lying down.
A few weeks ago, one of the women in the class asked me if I wear pigtails all the time. "No!" I laughed, this was strictly a headache aversion technique I deploy in yoga class. She smiled too, and said she and some of the others had been wondering about it.
A little odd, perhaps, that the ladies were (maybe) gossiping about my mild yoga hair mishigas. But at the same time, I left that class feeling a little flush of pride. There was an obstacle to my getting everything I wanted out of my yoga practice, and I found a way to solve it. If that makes me different, I'll take it. I'll take it with pride.
Do you have any secret solutions that help you get more out of your fitness, nutrition, or spiritual practices?
(image via: http://hair.lovetoknow.com/Pigtails)
Like what you see? Click here to subscribe and get Fresh Living in your in-box every day.