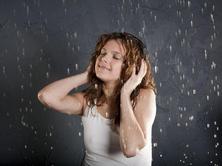 Our blog sister Therese Borchard often quotes a piece of her mother's wisdom: "Don't sit around waiting for the storm to be over. Instead, learn how to dance in the rain."
Well, here in Boston, it's been raining for 4 solid days. I'm talking, serious, constant, thank-God-we-have-a-sump-pump raining.
So instead of going out of my mind, I'm heeding Therese's advice and contemplating ways to dance in the rain.
A fun place to start is with this new Beliefnet quiz: Songs About Rain. You'll find Eurythmics, Creedence Clearwater Revival, Johnny Nash, and Simon & Garfunkel in the mix. Please feel free to suggest additional questions in the combox!
After you do, keep the dance-in-the-rain spirit going by looking back at Valerie's original list of songs about rain, and checking out my 25 ways to stay happy on a rainy day.
How do you keep your bliss when the rain is pouring down?
Like
what you see? Click here to subscribe
and get Fresh Living in your in-box every day.