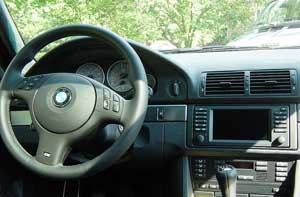 There's a greeting card that reads, "I miss you." And on the inside: "There's no one to grip the dashboard and scream in terror." A decade or so back, two separate people gave me that card without the other knowing.
Not much of a driver myself (a New Yorker through and through), I frequently do grip the dashboard. I stomp an invisible, non-existent passenger-side break. I grab at straps. It drives my drivers crazy. Which makes me crazy. It's simply not a fun way to travel.
But, since one particularly trying seven-hour trip with a friend about seven years ago, I have worked very hard on modifying my behavior. Realizing this is purely about trust and control and fear (I was in a scary accident with my mom at age 14), I do my best to actively let go and relax as soon as I get in a car. Here are some things I do. They may help you in similar situations, i.e., when you are feeling out of control yet are not in any actual danger–in planes, cars, in-laws living rooms, etc:
– Breathe some deep breaths as soon as the ignition starts
– Tell myself, "I am safe, I will be ok"
– Tell myself, "God has me. No matter what happens, I am ultimately safe."
– Tell myself, "I trust this person driving." And if that's not really true, I ask myself, "Am I safe, though?" And if the answer if roughly "yes"–they're sober, have a good driving record, are calm, etc.–I tell myself "I trust that this person is also protected and does not want to get into an accident."
– Imagine that my seat is a snuggly, safe place, and sink into its contours
– Keep breathing
– Remember that worrying will not make us safer. In fact, if anything, happy thoughts will make the ride smoother for everyone.
– Surrender, surrender, surrender
– Close my eyes at left turns
– Visualize us safe and happy at our destination
– Turn any thoughts about driving accident stats into clouds I watch drift away
– Trust that if I do see anything the driver needs to know I will notice and speak in a calm, non-knee jerk way
– Pray
– Breathe
– Get into the music
– Have a nice, distracting chat
– Ask the driver to tell me a story
– Sing
– Snack
– Nap
– Remind myself that this is just like life–it often doesn't come with a steering wheel. And the key to getting to your destination happy, calm, and with friends, is to be a calm, trusting passenger when necessary and help the driver out once in a while–without grippy panic, but faith, grace, and humor.
Like what you see? Click here to subscribe and get Fresh Living in your in-box every day!