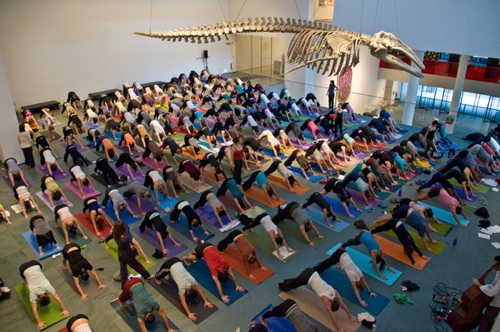 I usually make an annual birthday pilgrimage to the Museum of Modern Art to check out the Waterlillies, parts of the Monet series that adorn freshman dorms and dentists' offices everywhere. I sit and gaze meditatively on the unfreakingbelievably gorgeous pinks and blues and greens and lavenders and the way the light hits and reflects and dives deep within the semi-illuminated waters.
So it felt spiritually natural to practice yoga on Saturday in the same airy, vaulted, light-filled building in an event co-hosted by Flavorpill and The Junior Associates of The Museum of Modern Art. Elena Brower, an Anusara yoga teacher and studio owner, taught the class in a sky-lit gallery underneath a suspended sculpture, Mobile Matrix, by Gabriel Orozco–a 35-foot whale skeleton tattooed with tribal markings in pencil. Many colors of yoga mats striped the gray marble floor (more hues than a Monet!); 200-plus yogis filled the space. As an upright bassist played softly, Elena integrated the space into her teachings, comparing the whale's structure to our own, and gestured to the enormous space around us as a literal representation of the internal expansion yoga can offer.
It was a beautiful relief to be reminded that yoga not only helps our bodies and minds to calm, but can also help us be freer in our lives in very real ways. When we're in a yoga pose that feels uncomfortable–not painful, just tight–and we stay with it by breathing, making micro-adjustments with our alignment, and then, slowly begin to relax, we have just taught ourselves a powerful, full-body lesson: You can create internal space even when external circumstances feel bound or constricted. And from that newly created space, we can make better choices because we're not shrinking from our pain or anyone else's–there's simply extra internal buffer zone for everything to more peacefully co-exist inside us.
I felt it so literally in my body as I breathed into a snug side-angle bend: I can hold a universe inside me. And there's no need to feel overwhelmed by that because the extra space will keep me protected, grounded, safe, possibly able to include anything life throws at me. It reminds of this quote from Buddha: "Let yourself be open and life will be easier. A spoon of salt in a glass of water makes the water undrinkable. A spoon of salt in a lake is almost unnoticed."
As I breathed under that unfleshed whale, listening, I thought of a recent moment when someone said he felt criticized by me. My immediate reaction was so intense and knee-jerk–essentially, "No! Don't feel that way! I didn't mean it like that!"–that I just made it worse with bumbled explaining, over-talking, non-listening.
It occurred to me that if I had a inhaled a little more space, air, freedom, I might not have rushed in so quickly to play Ms. Fix-It to avoid the sting of hurting someone. I may have responded more "appropriately," as Elena said, to the human in front of me–with more presence, listening, kindness, and quiet. And then said what needed to be spoken.
She also reminded us that when we catch ourselves reacting instead of responding, it's a sign of growth. Because chances are it's not the first time you've done it, just the first time you've noticed it. Meaning, be kind to yourself too; you are sprouting in the darkness.
In the day or so since, in tight moments I keep thinking: Expand. Take a breath, a moment to get a little more spacious inside, like that giant gallery, the huge whale, the Buddha's lake, to face the pains and loveliness of the world around me with a bit more grace.
Photo by Wayne Price. More GORGEous pics of YoGA at the MoMA event here.
Like what you see? Click here to subscribe and get Fresh Living in your in-box every day!