Baby, it's cold outside, and in the mornings when it's time to select my outfit du jour, two words ping around my head as I open the closet door: "cozy" and "comforting."
So on this chilly Hump Day, I have a question for you: What's your coziest, most warming, and beloved piece of winter clothing?
What's that you say – what's mine? Glad you asked, because I just so happen to be wearing it today. It's a sweater I got last fall from Athleta, and it's soft, warm perfection on a chilly or stress-filled day. It's even called "Cozy Cocoon Sweater," for heaven's sake! And sometimes the right cocoon, I mean sweater, is just what we need to feel safe, hugged, and toasty on an icy day.
Photographic note: I am without my usual makeup regimen today. Because who needs makeup when one has on her best sweater?
What makes this my favie? First, the words "marled heather yarn" in the catalog description. Second, it's really three sweater-snuggles in one. Witness:
1. The cowl-neck is almost as long as the sweater, and I love the pleasant heft of a soft, rich scarf hanging from my neck.
2. The cowl is also stretchy enough to smooth over your shoulders into a shawl-like drape that's just tight enough to feel like a hug but not so tight as to be constricting.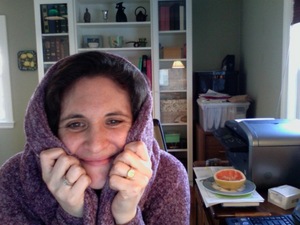 3. Best of all – the cowl becomes a magical heathered hood, perfect for stepping outside to get the mail, or just cozying up at one's desk while extolling the virtues of one's favorite sweater! Cuddle-licious.
So…..what piece of clothing saves your soul on a rough winter day?
Like what you see? Click here to subscribe and get Fresh Living in your in-box every day!