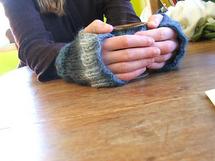 It's amazing how fast my hands seem to go from their usual relative suppleness to a nightmare of dry, cracking, and bright red irritation. I can time this change almost to the minute to when the temperature first slips below freezing – or the first day that can legitimately be described as "blustery."
Dry, cold winter air strips all of our skin of nourishing oils, especially the face, lips, and hands. I've spent some time investigating ways to relieve the dry-hand issue–not only because it looks ugly, but because when it's bad, I find it hard to type, cook, and do other things that, you know, keep me alive and happy.
5 Tips to Relieve Winter-Chapped Hands
1. Moisturize Yourself Silly: There are many products that will deliver moisture to your hands, but I prefer a paraben-free lotion, or even better, a fast-absorbing oil. I use JASON's organic vitamin E oil. It smells great, moisturizes like crazy, and if I'm careful to rub the backs of my hands together, I don't leave any greasy fingerprints around the house. In dire dry-skin situations, you can even puncture a regular vitamin E capsule with a safety pin and squeeze the liquid love right onto your poor thirsty hands.
2. Keep it Lukewarm: Only hot water kills germs, I can hear my mother saying. But if you wash your hands (which you do often for flu prevention, right?!) in too-hot water, you are stripping moisture out of your skin and causing it to shrink back and crack. So wash–and shower–in lukewarm water, not the piping hot stuff.
3. Exfoliate: It might sound counter-intuitive to suggest you strip away layers of skin at this dry time of year. But it's a great hand-protector to do so regularly, because those dry, cracked areas of your skin are actually dead…and once they're gone, fresh, nourished skin can show itself. You can make a home exfoliator by just mixing a small handful of kosher salt with a few glugs of olive or grape seed oil–moisture and exfoliation in one shot!
4. Cover Up: If it's cold outside, your hands should be covered up before heading out, period. Not only will your gloves keep heat from escaping your body, they will act as a barrier between your skin and the bracing elements. Better still, slather on some moisturizer before you slide your hands into your gloves or mittens (the cuter the better!).
5. Avoid Air Hand-Dryers: Right up there with cold, dry air is hot, dry air. So if you're washing your hands in a public restroom with a blow-dryer instead of paper towels, shake off the excess (lukewarm) water and put your coat or sweater to the test to get your hands completely dry. Your digits will thank you.
Please add your ideas for surviving winter hand dryness in the comments!
(image via: http://tinyhappy.typepad.com)
Like what you see? Click here to subscribe and get Fresh Living in your in-box every day.