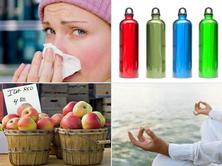 Swine flu and health care and loss…oh my!
In retrospect, 2009 sounds pretty dismal, especially when we look back it through the lens of health. Let's take inventory, shall we? Pandemic disease confused and sickened up. Toxic chemicals and bacteria threatened and poisoned us. A national political debate angered and frustrated us. And cancer and other diseases killed some of our brightest stars.
Valerie and I decided that there must be something inspiring or uplifting to be learned from the wreckage of 2009's messy landscape. So we compiled a gallery of the 10 health lessons we've gleaned from the year that was.
The first lesson? Don't panic. Good advice for us all, methinks….
Click here: The 10 Health Lessons of 2009
Like what you see? Click here to subscribe and get Fresh Living in your in-box every day.