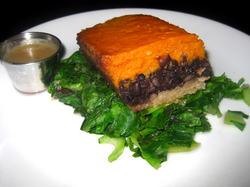 Love that NY Times Well blog! In case your Thanksgiving meal plan isn't totally set yet, they have some delish-sounding non-dairy, non-egg, non-meat recipes like Gnocchi in Pumpkin Sauce and Smoked Mushroom Roulade.
It looks like I'll be making a vegan T-day recipe myself, even though I eat dairy–mostly in chocolate form. I'll be whipping up the Paradise Casserole from the Candle Cafe cookbook–a wonderful book from one of my favorite vegetarian restuarants here in NYC. The layers from the bottom up are: steamed greens, millet, black beans, and mashed sweet potatoes. It's all full of lovely spices. I've posted the Paradise Casserole recipe below.
At the actual restaurant (but not in the cookbook, oddly), they give you a side of warm vegan gravy, which isn't essential, but completes the comfort food vibe. This recipe also doesn't have the greens, so I'd just say add enough chopped and steamed chard and kale (or other favorite, non-bitter cooking greens) for a thin bottom layer. Or simply make the casserole and settle it in a bed of steamed greens. Yum!
Paradise Casserole
4 Sweet Potatoes
1 T. Sweet White Miso
1 t. Umeboshi Vinegar
2 t. Ground Cinnamon
1 C. Black Beans, soaked overnight with a 1″ piece of Kombu, drained
2 t. Garlic, minced
1?2 C. White Onion, finely chopped
1 t. Cumin
Pinch of Crushed Red Pepper
Pince of Sea Salt
1 1?2 C. Millet
1 T. Extra-Virgin Olive Oil
1. Preheat oven to 350.
2. Bake the sweet potatoes for 1 hour, or until fork-tender. When cool enough to handle, remove the cooked potatoes from their skins, place in a large mixing bowl, and mash with a potato masher until smooth. Combine the miso, vinegar, and cinnamon with the potatoes.
3. Meanwhile, put the beans in a large stockpot and add water to cover by 2″. Add the garlic, onion, cumin, crushed red pepper, and salt and bring to a boil over high heat. Reduce the heat, cover, and simmer the beans for 45-60 minutes, or until tender. Drain and set aside.
4. While the beans are cooking, put the millet and 4 C. of salted water in a large pot and bring to a boil. Then cover and simmer over low heat for 45 minutes, or until the water is absorbed. Set aside.
5. Lightly oil a large baking pan or casserole. Spread the millet over the bottom of the pan, then spread the black beans in an even layer over the millet. Top with the sweet potato mixture over the black beans in an even layer.
6. Bake the casserole for 45 minutes. Remove from the oven and let cool a bit before serving.
Serves six to eight.
Related Articles:
A Thanksgiving Prayer: 'I Wish You Enough'
Thanksgiving Crafts! Fabric Leaf Place Cards
Like what you see? Click here to subscribe and get Fresh Living in your in-box every day!