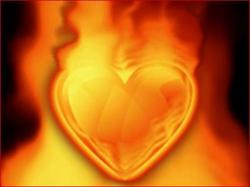 Some of us may, despite our very best efforts to live by the "everything in moderation" philosophy over Thanksgiving, be feeling the burn today, the day after. And by "the burn," I mean heartburn. Maybe you had too much wine, or too much pie (Is there such a thing? Sorry, there I go again…), or just plain too much, and your esophagus is taking its revenge.
Never fear if you're nodding tiredly right now, because we have a very comforting set of recipes waiting in the wings just for you: 10 Heartburn-Friendly Recipes! From a simple wild rice casserole to a turkey, green bean, and almond saute that's the perfect Thanksgiving leftover-eater-upper, these recipes are easy to eat, simple to make, and just plain yummy.
Click here for all 10 Heartburn-Friendly Recipes. And give thanks for a long weekend!
(image via: http://acidrefluxheartburnremedy.com/)
Like what you see? Click here to subscribe and get Fresh Living in your in-box every day!