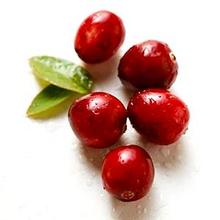 Oh, cranberry, how do we love thee? Let me count the ways.
In the health arena, you make our hearts go pitter-pat–and not just because you may lower bad cholesterol and increase good. You're also packed with immune-boosting antioxidants, urinary health-protecting antibacterial properties, and even–if you believe one Rutgers researcher–a compound that prevents plaque from binding to your teeth. Super-food, anyone?
But Foodie Friday is about more than mere healthy eating, it's about feel-good, taste-great foodie joy. And there, we're smitten too. Because not only do you contain a major dose of pectin, which, once released, brings you from firm fruit to delectable, just-burst gel in mere minutes. You're also so perfectly tart so as to act as the perfect foil in sweet desserts, and a delightful zing to savory dishes. Is there anything you can't do?
I'm lucky enough to live in cranberry country–New England–where my store stocks several brands of local berries fresh from the bog. Seeing as how 'tis the season for all things cran, I thought I'd share my 5 favorite ways to enjoy this tiny super-fruit. What are yours?
5 Ways to Enjoy Cranberries
1. Drink 'Em. Cranberry juice + sparkling wine + lime juice = fizzy, tarted-up perfection. Also, you know cranberry juice is a chief ingredient in a Cosmo, right?
2. Sauce 'Em. As if I have to tell you…..boil a bag of crans with a cup of water, a cup of sugar, and the zest of an orange. Some crystallized ginger never hurt anyone either!
3. Bake 'Em. Toss in a handful of cranberries to your apple pie filling, or use them instead of blueberries a crumb cake or breakfast bread for little bursts of tart-sweet goodness (note: you may need to adjust the sugar because crans are so tart).
4. Savor 'Em. Concocting a wild rice, quinoa, or wheat berry salad? Try some chopped roasted vegetables, dots of goat cheese, and a handful of dried cranberries. A splash of lemon juice, a few glugs of olive oil, and you're on your way to Savory City!
5. Snack 'Em. Dried cranberries are pleasantly chewy, super-sweet, and very happily eaten by the handful with salted nuts, sunflower or pumpkin seeds, chocolate chips, and any other dried fruits you like. Wait, did I just describe a trail mix? Take dried cranberries with you on a fall hike or winter snowshoe, and you'll be rarin' to go!
Still hungry? Click here for more Foodie Friday tidbits.
(image via: http://www.goodguide.com/)
Like what you see? Click here to subscribe and get Fresh Living in your in-box every day!