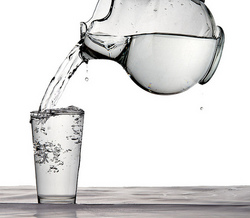 As Thanksgiving has gotten closer, I've been thinking a lot lately about the concept of "enough." I even pulled ye olde Webster's off the shelf to look up its definition:
e-nough (i nuf'), adj. adequate for the want or need; sufficient for the purpose or to satisfy the desire.
I'm not just contemplating "enough" because Thanksgiving–and the whole winter holiday season–is a time when we all circle the concept. On one hand, the holidays can become an overindulgence, especially in the food department–too much, ever more, never enough. I suspect that a lot of us wrestle with the guilty feeling that we're flirting with gluttony throughout the holidays. On the other hand, the holidays can drive us to dwell on those things we don't have enough of–money, love, happiness. Somewhere in the middle of these two extremes is the peace of "enough."
On the overindulgence front, here's my question–why should we hold back on full plates, loud laughter, generous gifting, and tight hugs? Isn't meagerness, stinginess, and tightness just as bad, if not worse, than "too much?" Yes – which is why I am after what I call "enough abundance" this holiday season. Enough should mean satisfaction, satiety, pure contentment with the food in our bodies and the smiles on our faces. It should mean being full in every sense of the word, and making peace with the things in our lives that we want but don't yet have.
Bob Perks, a longtime Beliefnet contributor, published an essay with us years ago titled "I Wish You Enough." I think of the phrase often, it's really been a guidepost for me over the years. I want to propose the prayer he includes in the article as possible words for you to say around your Thanksgiving table:
I wish you enough sun to keep your attitude bright.
I wish you enough rain to appreciate the sun more.
I wish you enough happiness to keep your spirit alive.
I wish you enough pain so that the smallest joys in life appear much bigger.
I wish you enough gain to satisfy your wanting.
I wish you enough loss to appreciate all that you possess.
I wish you enough.
Happy Thanksgiving, everyone!
(image via: http://www.flickr.com/photos/kezo/2579878358/)

Like what you see? Click here to subscribe and get Fresh Living in your in-box every day!