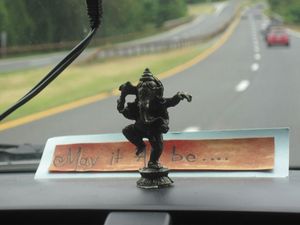 This weekend in the midst of all the chanting at Omega Institute's Ecstatic Chant Festival, when I wasn't dancing, I was writing. There's something about kirtan that makes me scribble–it shakes up so much stuff (fears, joys, doubts, dreams, longings) that it must come out through booty-shaking, tears, words spoken and drawn.
Here are a few haiku I wrote while harmoniums hummed, drums beat, voices soared. The formal organization of haiku (a 5/7/5 syllable structure) is beloved because it helps distill ideas into essence. Not unlike a deceptively simple chant or mantra. The best haiku take you on a complete, 17-syllable journey. And sometimes (ahem) they're just fun to write and share!
Kirtan Haiku (all untitled at the moment)
Kirtan is a mop,
clearing the floor of being.
Naked feet kiss it.
The floor is shaking.
Feet pounding out God's sweet name,
the One twirls alive.
My mind is a beast.
It tells me I am nothing
and I believe it
I hear there's a door.
The free party over there.
I hear them whoop, sing.
Self-hate is ugly
Let's get beautiful and bare.
Confess love all night.
Can I open me?
Or must I wait for love?
Hold my hand to God.
Please let this yearning
be of use to Divine Love.
Let this longing serve.
What if suffering
was fuel to holy fire?
I'd more gladly burn.
Give it up for Ram.
Go Ram, it's your birthday.
You bring ancient joy.
Sanskrit is sacred.
The way my toungue touches it
kisses open God.
I am here to live.
Remember to dance, baby!
Let it all dance me.
Do you haiku? If so, please share in the comments!