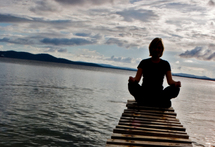 I've been a less-than-successful meditator lately, finding myself caught in a session-ending swirl of thoughts every time I've gone to sit quietly for even a few minutes. So I think it's time to kick up my game and find an appropriate meditation CD, download, or even DVD.
Here's the thing, though – I have a lousy history with such products. The last one I had was a heart meditation that left me gasping for breath as my heart felt like it was going to fly out of my chest. Before that, I tried a chakra-cleansing meditation that got faster and more manic as it moved up the chakra ladder. I was laughing out loud by the end. Entertaining, but not exactly theta-wave inducing.
So, other than enjoying my teacher's beautiful short guided meditations at yoga class, I've always kept my own meditation counsel. Until now–it's guidance time.
My first stop might be one of the health and wellness downloads Beliefnet offers through our partnership with iAmplify. The breathing exercises from Dr. Andrew Weil are particularly intriguing. Or maybe Jack Kornfeld's "Meditation for Beginners" or Louise Hay's "Meditations for Personal Healing" from the Meditation downloads list. I suspect the best course will be to try a few and see which one is the best fit for me.
But before I officially embark, I wanted to put the question out to you – what guided meditation tapes, CDs, DVDs, downloads, etc have you found helpful?
(image via: http://www.lifedynamix.com/articles/Mental-Health/Relaxation%20Magic_Hypnosis_Meditation_Visualization.html)
Like what you just read? Subscribe and get Fresh Living in your in-box every day!