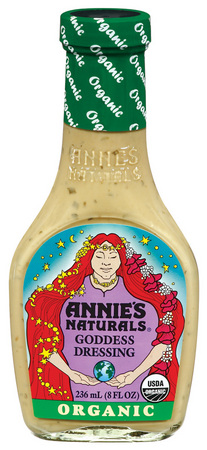 I don't proselytize about too many products. I mean Tom's shoes are amazing; I love my Bum Bars, and Dagoba organic chocolate are things, in my opinion, worth spreading the word about. Mostly, though, I'm pretty product-fickle. But not so with Annie's Goddess Dressing. I've been using it almost every day for about 10 years, save little spates where I got sick of it only to rediscover my passion after a break.
Talking about this with a friend the other day, I realized I'm not the only one! It goes well on salads, of course. But its creamy tahini base makes it great for veggies and rice and beans or fish, or just about anything savory. And now, checking out the Annie's website, turns out its their most popular dressing. It's the kind of dressing I would recommend to people who say they don't like salad. Put a little Goddess on it and those greens might take on a whole new meaning.
Ingredient-wise, the stuff is vegan and sweetener-free, with Canola Oil, Water, Tahini, Apple Cider Vinegar, Soy Sauce (water, soybeans, sea salt, wheat), Lemon Juice, Sea Salt, Garlic, Sesame Seeds, Parsley, Chives, Xanthan Gum. They recently rolled out an organic version–a little pricier, but not much, depending on the store.
Pretty simple and pretty delish. Are you a fan? Or have another favorite dressing? Do share.