I went to a Bikram yoga class this morning for the first time in almost a year. It's the kind of uber-sweaty yoga done in a room that's about 115 degrees. I actually like the heat, it's the meanie teachers I can't stand. But today's instructor was actually not overtly shaming or pushy. It was nice. She did go by the standard Bikram script, though, which has very sketchy lines like "if your forehead's not on your knee you won't get any
benefits from this pose." It's like, Lady, would you like to be inside my hamstring right now? I'm getting some benefits, trust me.
Anyway, even though today's was a relatively pleasantish experience, thought I'd share this fantastic Nina Paley cartoon, which I strongly suspect is based on a Bikram class.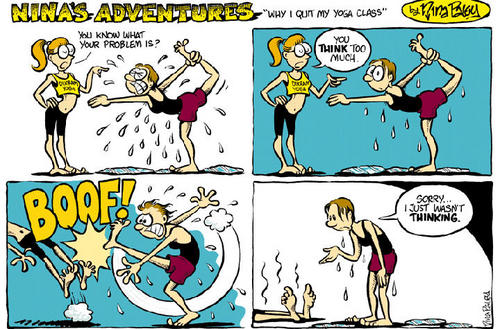 To see more of Nina Paley's cartoons and other stuff, click here.
Have you ever had an, er, interesting yoga experience like that one?