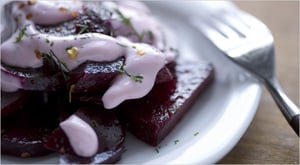 Last night I met people who work on a newish online section from the New York Times, Recipes for Health. It's lovingly put together by devout foodies and divided up by main ingredients. They have some slideshows of recipes by kind, like this deeelish-looking salad recipe collection.
This roasted beet-yogurt salad in particular is calling my name: http://www.nytimes.com/2008/08/05/health/nutrition/05recipehealth.html
I think beets might be my favorite salad ingredient. Except maybe for toasted pine nuts. And goat cheese. And arugula. And cherry tomatoes. And cucumber. And avocado, how could I have forgotten avocado? Can you tell it's almost lunchtime?
What are your favorite salad ingredients?